CITec Concrete Improvement Technologies GmbH
Your partner for the performance-based diagnosis and the non-destructive rehabilitation of corrosion damage on reinforced concrete and pre-stressed structures
Our focus is on the reduction of effort and the enhancement of durability in the maintenance and repair of reinforced concrete structures – e.g. bridges, tunnels, car parks and industrial facilities. Our services are the performance based diagnosis and the repair design (and partly rehabilitation measures) on corrosion affected reinforced structures. We use preferably non-destructive electrochemical methods and combine them with conventional methods. Please read more on our website (or just call or email) about the advantages and background of our approach.
Corrosion diagnosis
A corrosion diagnosis is substantially more than a record of damage – it is the key to understanding the structural behaviour and to make appropriate decisions about the timing and extent of the necessary actions for maintenance and repair. Frequently the result of such a diagnosis deviates from the visual impression of the structure, but has a sound backup of measurement data.
Electrochemical chloride extraction (ECE)
With this non-destructive repair method according to EN 14038-2, the corrosion protection of the concrete for the reinforcement can be re-established within a few weeks, typically used for structures affected by de-icing salts and a low level of degradation. ECE is beneficial especially for small, distributed damage areas, e.g. in hollow box girders of bridges or on bottom areas of columns and walls. Usually there are no restrictions for use in buildings during an ECE application. CITec has developed patented electrodes and control procedures for ECE.
Cathodic protection
This non-destructive repair method according to EN ISO 12696 protects the reinforcement from further corrosion by a permanently installed anode. In most cases this anode consists of activated titanium (Ti/MMO) and is operated by an external power source, or it is made of zinc, which is then called galvanic CP. Apart from services for consulting, design and supervision, we conduct CP feasibility tests, which is of particular interest for proposed galvanic CP systems.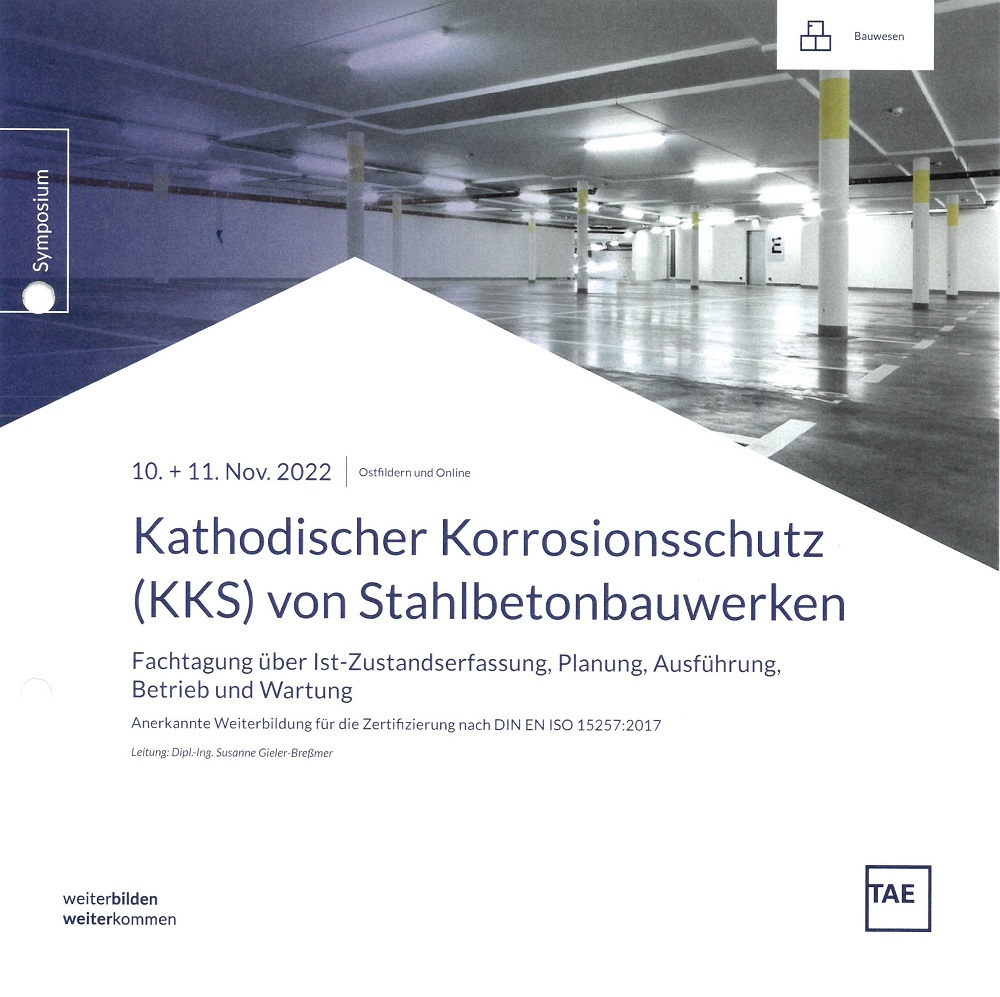 In this conference we had a presentation about the Nutzung erweiterter elektrochemischer Meßmethoden zum Erfolgsnachweis beim elektrochemischen Chloridentzug (Use of enhanced electrochemical measurements for the performance verification after ECE – update from the 2019 presentation). We will send you the manuscript on request (in German).